Bhutan has been high on our bucket list for the last few years. Tiny and remote, it sits nestled in the Himalayas between India and China. An inherent belief in Bhutan is that accumulating material wealth does not necessarily lead to happiness. The Bhutanese measure success not by the conventional standard of Gross Domestic Product but rather by Gross National Happiness. Monasteries and monks abound in this Buddhist kingdom, a special place of prayer and meditation. The ideal time to explore Bhutan is in the fall, but we chose to visit in December, and we were not disappointed. The skies were blue, and the air was crisp - perfect for sightseeing and hiking. If you want to meet some of the friendliest people, view stunning scenery and experience a stirring dose of spirituality - Bhutan should be on your short list.
Getting There: Now the bad news, getting to Bhutan is not so easy. We flew overnight to Bangkok (via Dubai), cleared customs, and stayed overnight. The next day, we caught an early flight to Paro with a 30 minute layover in India. Paro is at an altitude of 7545' so drink lots of water and try and acclimate slowly.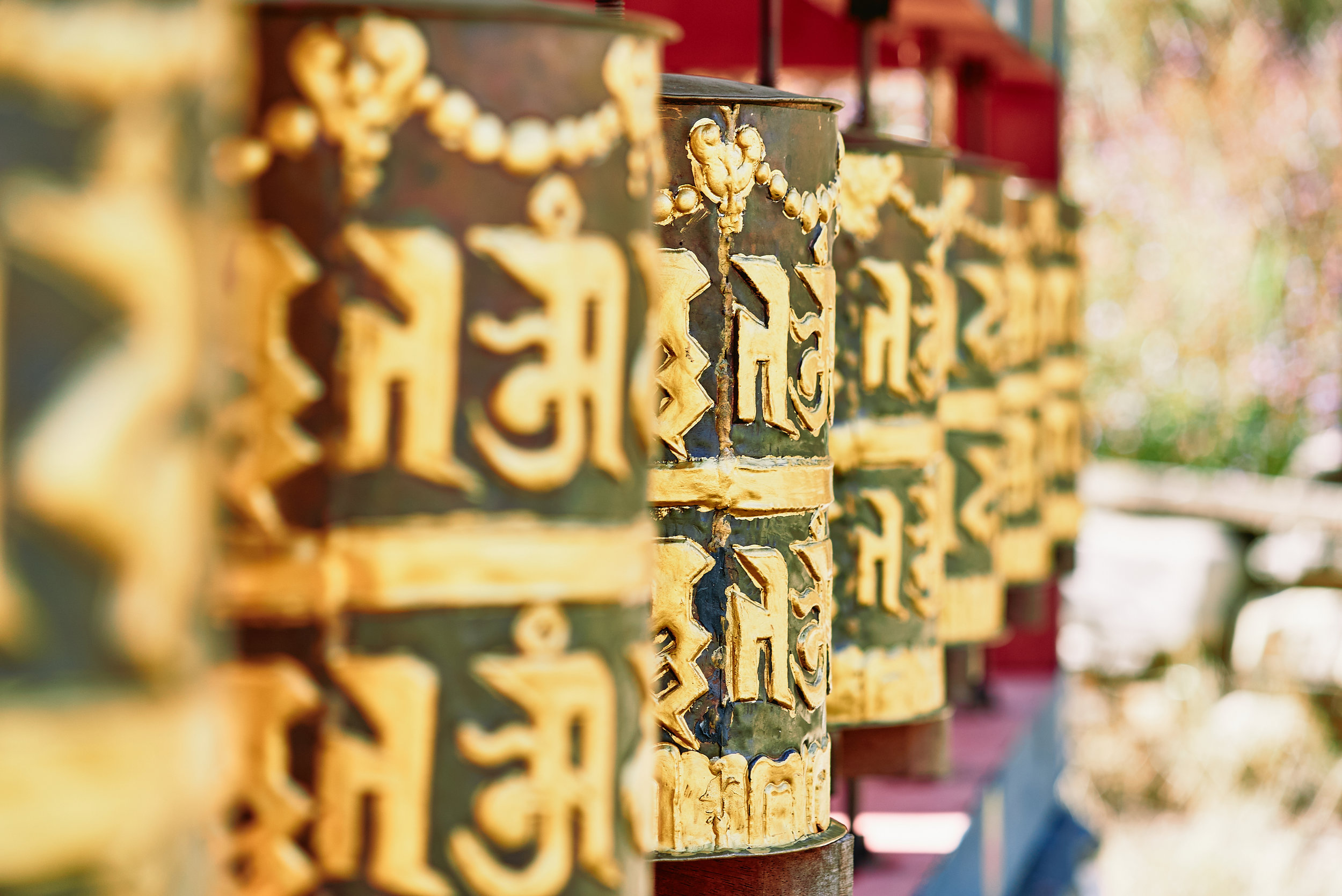 Tripper Tips:
"Tashi Delek" (May good things come to you) is the greeting you hear in Bhutan. This is the essence of the people you will meet coming to this country
Flying into Paro is, um, interesting. There are amazing views: if you're sitting on the left-hand side of the plane and the skies are clear, there's a good chance you'll see Everest.
The roads are extremely narrow with many switchbacks (we did enjoy the many signs along the way urging focus and sobriety.) The drive from Bumthang to Punakha is roughly 9 hours. We would either eliminate Bumthang from the itinerary and substitute Gangtey (Gangtey Lodge) as it is much closer to Punakha or opt to hire a helicopter (expensive but in our opinion worth it.) Visitors must obtain a visa, and must spend a minimum of $200 per person, per day. You must have a guide—there is no doing Bhutan on your own. Try and experience a hot stone bath,a traditional healing practice in which a person soaks in fresh river water that is mixed with local herbs and heated with fire roasted river stones.
Be aware, you are not traveling to Bhutan for the food. You are going there for the people, the landscape, the culture, and the hiking.
Every time you enter a temple, you will be asked to take your shoes off. Bring slip-ons. You may visit four temples in one day.
Stay: We enjoyed a three-day stay at the Taj Tashi, convenient if you want to be in the center of town. The hotel was a bit tired, and the service was spotty. If you don't mind being a bit out of town, stay at the Aman or the brand new Six Senses where the service is guaranteed.
Explore and Reflect: After breakfast, we drove up to Buddha View Point where the Buddha Dordenma sits. At 177 feet tall, you can see this bronze statue from just about anywhere in Thimphu, one of the most significant figures in the world depicting a seated Buddha. Next, we spent an hour with a monk learning about mandala making. The presentation included a talk about the spiritual journey we all are on (especially the participation in rituals, ceremonies, and festivals). We watched the monk begin a mandala using colored rock powder. We all worked to construct our own mandalas using colorful seeds (it's harder than it looks.) We left the monk and returned 6 hours later. The monk was putting his final touches on the beautiful mandala. We were then asked to each take a napkin and wipe his hard work away. This was a lesson teaching us that nothing in life is permanent.
To Market: Since it was Saturday, we headed off to the weekend market. There are three parts. By far, the largest is a food section, with fruits, vegetables, dairy, meats and other foodstuffs. Next is a section with household goods and clothing. Lastly, there is a tourist market, with souvenirs and other items of interest. Don't forget to bargain.
Spa: After the hours of travel and the a day of touring sites, a massage at the spa is more a necessity than a luxury. We opted for the "cupping" massage. It wasn't the traditional "cupping" method that we've read about, if you book a massage, stick to the basics.
Day Two
Hike: We began our day with a visit to the Memorial Chorten, circling the temple three times and lighting butter lamps for good luck. From the Memorial Chorten, we headed outside the city for a hike up to Cheri Gompa, built by the "George Washington" of Bhutan, Shabdrung Ngawang Namgyal. The hike was an excellent first hike to get us ready for our hike to Tigers Nest, a more challenging hike that we did on our last day. At the top, we lit butter lamps and sat to meditate in the temple.
Astrology: A true highlight of our trip was visiting the Bhutan Royal University of Astrology. Our guide organized a meeting with a monk master. We climbed up steep stairs and entered a tiny room with a mattress on one side and pillows on the other. We were allowed one question. You can ask anything. Without giving anything away, we all felt that our Monk Master was spot on. We also each received a meditation chant that we used throughout our travels in Bhutan.
Dinner: We were lucky to have the dinner with author, Linda Leaming. She wrote A Field Guide to Happiness, a humorous look at life in the mountains of Bhutan and describes how anyone can be happier by learning new habits. Her perspective on Bhutan and the Bhutanese was insightful.

Day Three
Rise and Shine: We got up and drove back to Paro to catch an early morning flight to Bumthang.
Stay: We stayed at the Amankora - undoubtedly the best hotel of our trip. The rooms were stylish, the floors heated and every night we got into bed with a hot water bottle that heating our sheets, a big plus after walking in the brisk air.
FYI: Bumthang (known as the Switzerland of Bhutan) is home to 29 temples and monasteries, including the ancient Jambay Lhakhang. Bumthang is one of the 20 districts comprising Bhutan.
Temple Hopping: On arrival, we headed to Jambay Lhakhang, one of the oldest temples in the country, Jambay Lhakhang was built by Songtsen Gampo in 659AD and visited by Guru Rimpoche when he came to Bumthang. Afterward, we visited another favorite - Tamshing Lhakhang, founded by Pema Lingpa in 1501 and completed in 1505. In the temple, there is an iron jacket made by the great Tertoen, and we were instructed to circulate the main altar three times with the coat so that our sins would wash away. The iron cloak was heavy - not an easy task to wash away one's sins. The third temple of the day, one of the most famous and most loved, was Kurjey Lhakhang, built in 1652 by the Penlop of Trongsa.
Ceremonial Welcome: The hotel's chef led an outdoor bonfire with the local women and men singing and dancing. The welcome ceremony was perfection - festive costumes, local cider hot toddies, hot water bottles placed onto our laps with blankets and hot snacks. An evening we will not soon forget.
Day Four
Morning Blessings: We woke up to a delicious hot honey ginger drink that hit the spot on a cool morning. Before starting our day, we were asked to participate in a blessing ceremony in the temple adjacent to our hotel. The master monk blessed each one of us. Afterward, we sat quietly while the monks chanted.
Museum: We drove up to the most remote area of Bumthang's valleys – the Tang Valley. The area is the birthplace of one of Bhutan's significant saints, Terton Pema Lingpa, the discoverer of treasures hidden by Guru Rimpoche. We started the day with a drive to the Ugyenchholing Palace, (an excellent museum built by the family that used to live there.) After visiting the palace, we had a picnic lunch outside overlooking the valley below.
Lake Meditation: Heading back, we stopped at Mebar-tso Lake, a very holy site and a deep part of the Tang River. A monk met us and led us in a chant, and then a quiet meditation.
Bullseye: Archery, the national sport of Bhutan, is a common feature of everyday life. We had a great lesson in both traditional bamboo and modern compound bow. You will come across archery and dart games throughout Bhutan. It's fun to stay and watch while the players sing, dance and shoot.
Day Five
The Long and Winding Road: As we were leaving the hotel, a monk met us and tied a red string around our wrists and blessed each of us. We then boarded the bus and drove out to Punakha via Trongsa, about a 9-hour drive. (Our suggestion would be to hire a helicopter.) We covered a lot of ground and the roads were challenging. On our drive, we stopped in Trongsa. We visited the museum – probably the best in the country – and explored the Trongsa Dzong.
The Divine Madman: In Punakha, you will find phallic symbols everywhere. From necklaces to house decorations, you will see them in all shapes and sizes. The "Divine Madman" or "The Mad Saint" advocated a "hippy" life of free love, wine and women as the way to achieve an evolved state. At dusk, we visited the Temple of the Divine Madman. A visit to this temple answered all our questions as to why some Bhutanese have phallic images painted on their houses. A friend of ours witnessed a ceremony for a woman hoping to become pregnant.
Stay: Our travel agent insisted we try a "farmhouse resort," and booked us at The Dhumra Farm. After nine hours on a bus on unpaved, narrow roads, we were ready for a welcome drink and hot towels. Dhumra Farm is not that type of hotel. It is a family owned hotel that has seen better days. I was angry at myself for not going with my gut and booking the Amankora. The Six Senses was not open when I was there but is opening throughout Bhutan in June of 2019. No question, book the Six Senses if you can.
Day Six
Morning Offering: This morning, we had the opportunity to make a Lu-choe Offering with some fruit and milk. We walked around the Buddha three times and spun many prayer wheels. We never got tired of visiting the monasteries, and we all loved any interaction with the monks.
Hike: Our hike up to the Khamsum Yulley Chorten took us across the Mo Chhu River on a swinging bridge decorated with prayer flags. One very cool thing to do while in Punakha is to go white water rafting. We did not get to do this, but our friends recommend this highly.
Afternoon Delight: Next, we went to the highlight of Punakha, the imposing Punakha Dzong, the "Palace of Great Happiness" strategically located between two rivers. After our visit, we drove to the Punakha Nunnery, a beautiful monastery perched on a hill with stunning scenic views.
Up, Up and Away: Leaving Punakha, We headed over Dochu La, back to Thimphu for lunch. The road climbed up through maple and blue pine forests to the 10,334' Dochu La (La means "pass"). Here, if the sky is clear, you can catch beautiful views of the Himalayas. According to the Bhutanese, the area around the pass is holy and inhabited by a variety of spirits. This is where we purchased our favorite prayer bead necklace which was later blessed by monks.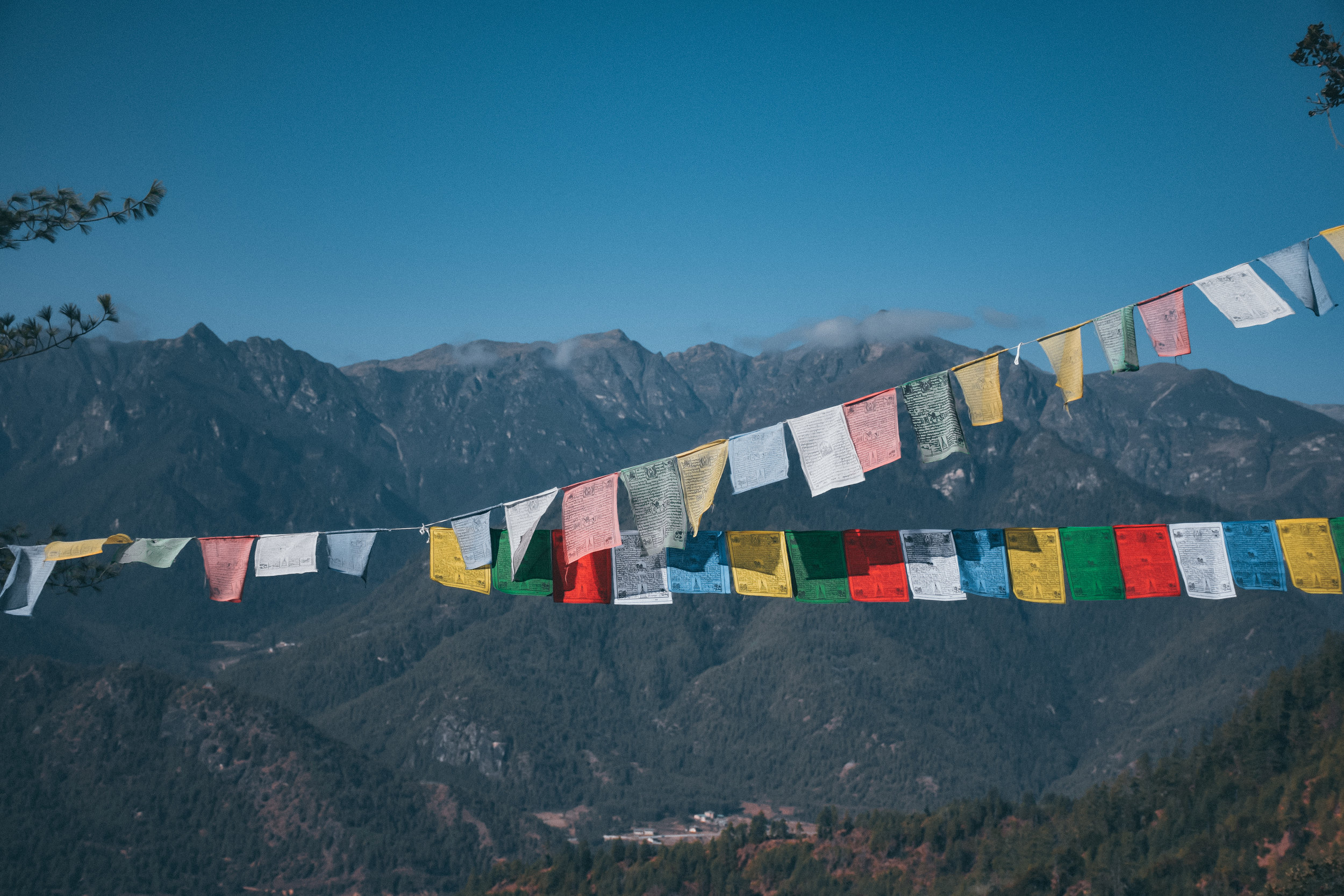 Day Seven
Stay: We arrived at The Spirit Sanctuary, a new hotel, built like a monastery that offered two in-house traditional medicine doctors, an indoor pool and a wellness spa. The best part of our stay at the Sanctuary was the homeopathic doctor who designed a well-being program for each of us on arrival. The rooms were very comfortable, and the farm to table meals were delicious. The hotel was just open for a few months, and we felt that the there were still a few kinks to be worked out. The Aman, Uma and Six Senses are all excellent alternatives in Paro.
Shopping: Paro is the perfect place to get all your gifts to bring back home to family and friends. We found buddhas, necklaces, scarves and blankets. We enjoyed lunch at a local restaurant.
Day Eight
Tiger's Nest: We got up at the crack of dawn to hike up to Tiger's Nest - the highlight of our trip. We arrived at the valley floor at 7 am, (if you arrive later you will inevitably get caught in the crowds of tourists hiking up.) We felt like we had the mountain to ourselves and had the chance to take gorgeous shots of the scenery below and the jaw-dropping monastery hanging off the cliff. The hike is not "easy" but is not the hardest we've done (We considered our hike in Patagonia much more demanding.) The hike to the entrance of Tiger's Nest was a steady two-hour uphill journey. At the monastery entrance, we were faced with a 700 stair climb. ( The stairs were carved into the cliff. ) As we climbed higher, it got colder and colder. Bring layers, you will need warmth at the top. A monk met us at the main temple and blessed our necklaces, Buddhas, and flags.
Prayer Flags: Buddhist prayer flags essentially carry our prayers via the wind to have them answered. Chants like "Om Mani Padme Hum" is popular and is said to bring compassion and cure jealousy, ignorance, and greed. On our hike down from Tiger's Nest, we hung our flags up and said a silent prayer.
Grateful: Whether the emotion was from the organic beauty or from the sheer exhilaration that we reached the magical monastery, we were overcome by gratitude to have such beautiful weather, to be together as a family and to have journeyed this incredible country with respect and grace.