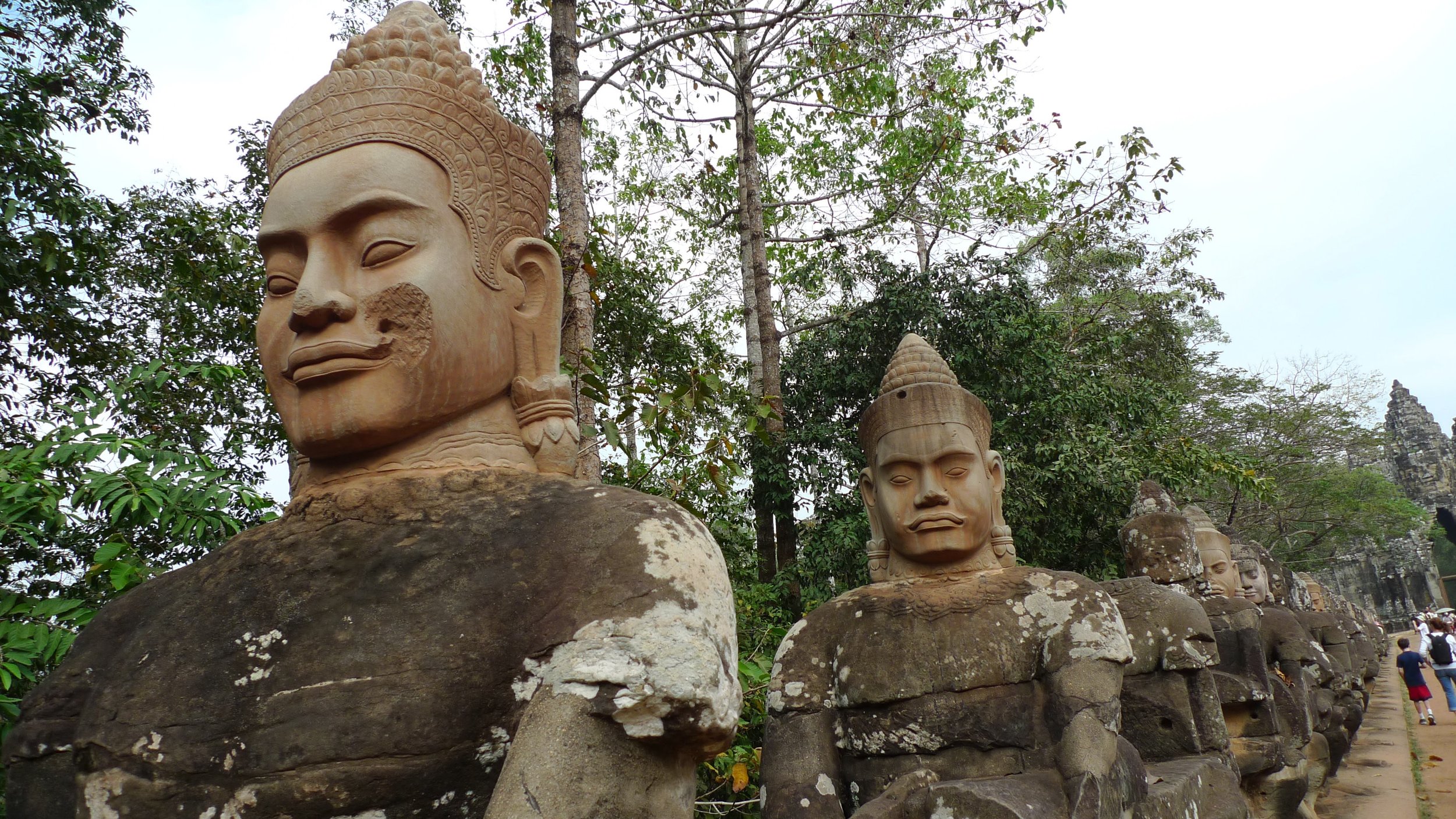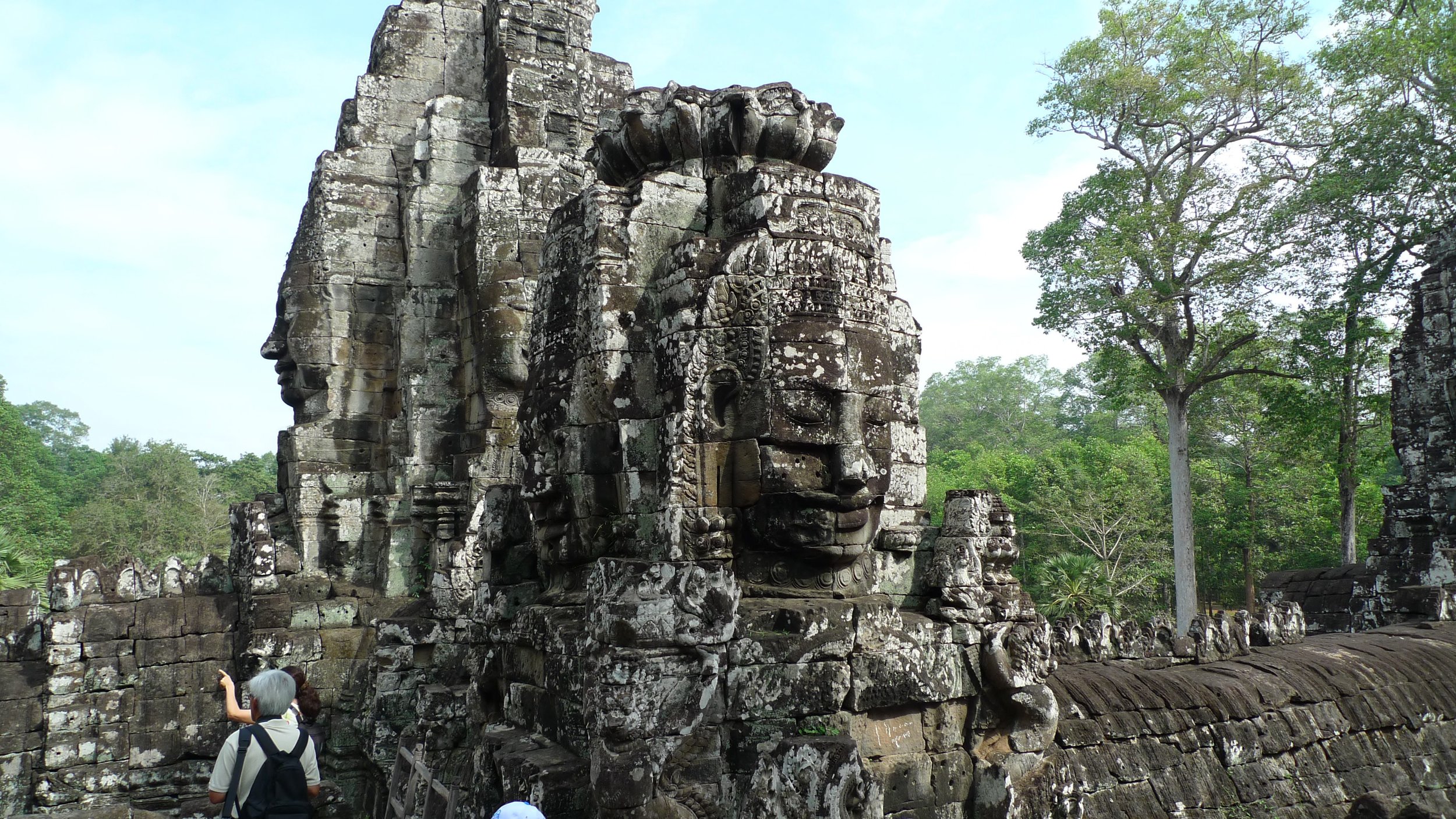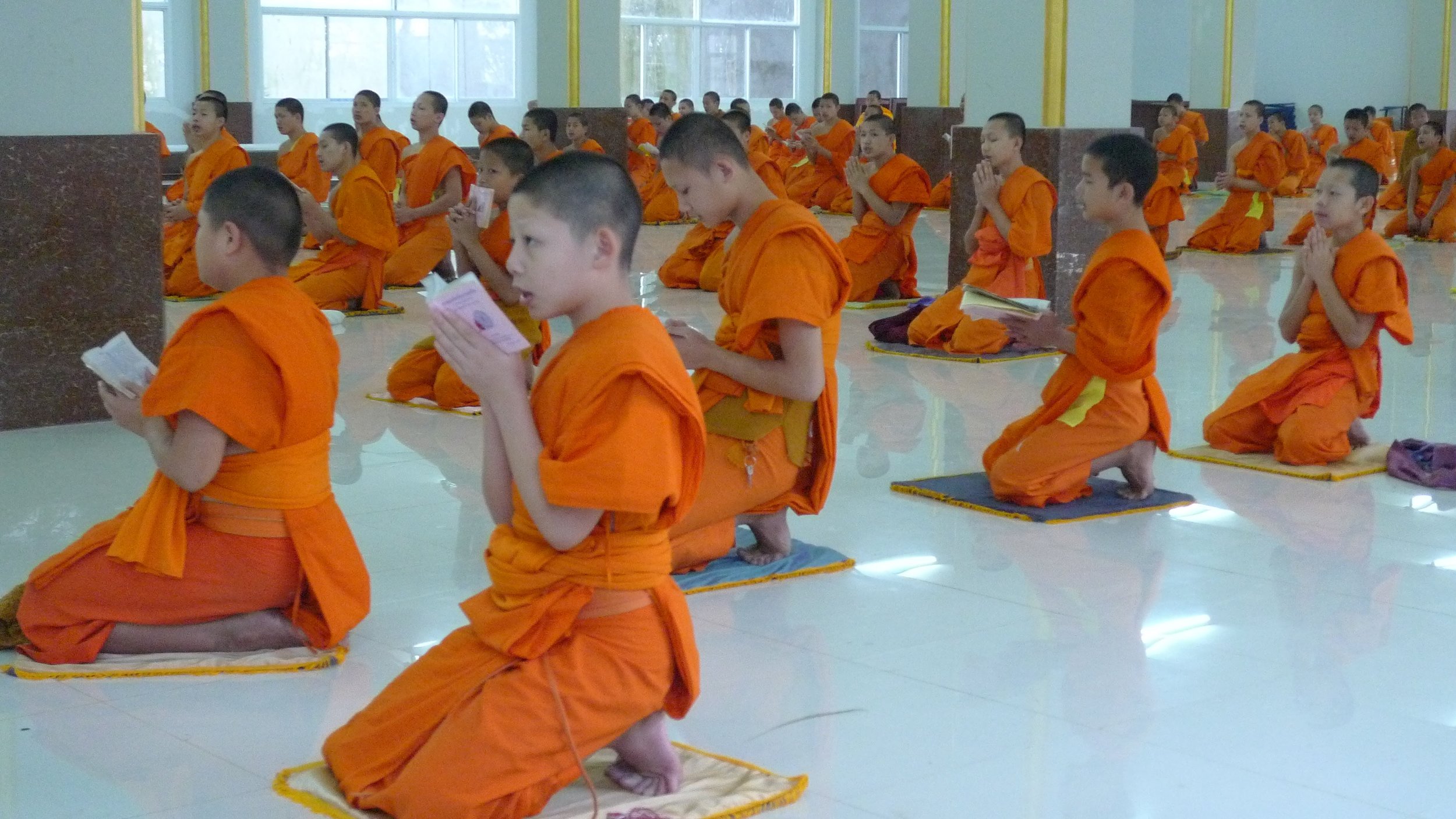 We recently called Sandy Ferguson of Asia Desk to plan a trip to South East Asia this coming March. Immediately we were impressed with Sandy's enthusiasm and vast knowledge of the region having attended high school in Bangkok and later spending decades working throughout the area. Known for creating itineraries based around his client's tastes and interests, using local guides he considers family, Asia Desk can arrange special access activities such as joining the monks for pre-dawn prayers at a mountaintop temple or dinner at a local family's house. Though this is just a sample itinerary yet to be custom designed, it offers a great reference tool and logistics for planning a trip, and we thank Sandy for letting us share it with Daytripper 365 subscribers.
Sandy's Note: Dear Friends, Asia desk's reputation has been built upon unique experiences, starting when you speak with me personally and carrying through to our local hosts, who will take you into their culture, homes, and hearts. It's like having an adventurous friend to show you all the best parts of a new country, a friend who is also capable of ensuring smooth coordination of all local transport and accommodations. It is truly your local hosts who make our services so unique. In addition to being officially licensed professional tour guides, I have personally selected each of our hosts for their English‐language skills, spot‐on local knowledge, and most importantly, genuine joy and desire to meet new travelers and share this knowledge; as I would do if I were there myself!
All of our local hosts know and understand that this is your trip, not ours. And their only mission is your complete satisfaction. They are flexible with regard to changing, rearranging, or adding anything to the trip as you see fit. I am confident that having one of 'my kids' by your side in Exotic Asia will make all the difference in creating the best travel experience you've ever had. Please enjoy looking over this sample itinerary.
Day 1
Depart today bound for Chiang Mai, which may require a "forced" overnight (Day 2) in Bangkok. During your westbound trans‐Pacific flights to Asia, you will cross the International Date Line, thus "losing" 24‐ hours to the clock. This time is regained when you return eastbound over the Pacific, generally bringing you home the same day as when you depart Asia.
Day 2 ‐ In Transit
In Bangkok, the Novotel Airport Hotel is the best choice for a "necessary night." Typically, because of the time difference (you are about twelve hours ahead of yourself when you land), you will find yourself sleeping only a few hours anyway (more like a long afternoon nap to your internal clock) and will awaken quite early the following morning.
Day 3 - Chiang Mai
Stay: 137 Pillars House, Puripunn Baby Grand, or The Rim Resort
This morning you will land in Chiang Mai. Chiang Mai is Thailand's principal northern city and is capital of a largely mountainous province also called Chiang Mai. The city was founded in 1296, and was initially the capital of Lanna Thai. Although Chiang Mai is becoming increasingly developed, many lowland Thais still regard Chiang Mai city and province as being something of a national Shangri‐La, thanks to its pretty scenery, distinctive festivals, historic temples and an invigorating cool season. (November through February)
Day 4
Blessings: Chiang Mai abounds with temples, and temples in Thailand form the backbone of Thai culture. If you are so inclined, you can "make merit" this morning in the Buddhist fashion by giving gifts of food or small offerings (provided by your host) to monks at a temple. Today is spent taking in the sights around Chiang Mai town, including some temples in the Old City like Wat Chedi Luang and Wat Pan Tao and, if you're interested, perhaps a local gallery or the handicrafts of Charoenrajd area. Embroidery, silk, and pottery are all sold around this city, and there's also a contemporary art museum.
Explore: Head 30km to Wat Phra Borommathat Doi Suthep, near the summit of Doi Suthep, the 4900ft mountain that looks down over the Chiang Mai valley. For devout Buddhists, this is a royal temple of the highest grade which houses a relic of the Buddha. In fact, the only reason it was built by King Gue‐Na in 1383 was for the housing of this relic. The temple provides a fascinating bird's eye view of the city and its surroundings, plus a cool and gentle breeze, which will hopefully allow you to forget about the arduous climb up the 290‐step stairway (note: for the faint of heart who'd rather not climb, there is a cable car service). The light on the valley in early evening is striking, and the crowds will have thinned from earlier. Consider circling the temple ringing each of the lucky bells, which is said to increase your good karma. Not surprisingly, you'll notice a bevy of lottery ticket vendors at the last bell!
To Market: On Sunday, the best public market in all of Thailand takes place! From 4 pm until midnight, the streets in the old town are entirely closed to traffic, starting at Thapae Gate and running along the length of Ratchadamnoen Road through the heart of Chiang Mai's historic center. This "walking street market," as it translates from Thai, has become a Chiang Mai institution and is a great place for locals to meet, browse, socialize, haggle, and enjoy. The market is a real showcase of the art and craftsmanship of Northern Thailand. Many of the stallholders have personally made the items which they sell, a testament to the skills and inventiveness of the local people. They love to banter, and as long as you smile and barter in a good-natured way, you will have a great experience with them. Food and drink will also be abundantly available, and this is a great place see genuine, Thai‐style street entertainment: living statues, Thai dancers, traditional musicians, puppet shows, and rock bands may all dot the route. This just adds to the festive atmosphere and makes it even more of a must‐see event!
Day 5
Elephant Experience: After breakfast, we'll head out of town to visit some Thai elephants, where you can learn what it takes to be a "mahout" (an elephant's human attendant). Note that we only partner with the most animal‐friendly operations in the region and this will be a chance to both feed and bathe an elephant. If you also want to ride an elephant, the center we'll use is located about 20 miles (an hour) outside of town in the rural suburbs of Chiang Mai. Notice all the coffee shops on the winding road out there! Or if you prefer a non‐riding experience, that is fine too, and we'll utilize another elephant camp which can also be combined with an optional visit to an orchid and butterfly farm on the way back to Chiang Mai. Either elephant camp will also include lunch.
TOURIST TRAP WARNING: There is no facility in Thailand offering hands‐on encounters with tigers where the animals are not drugged. We consider this inhumane and discourage it.
Day 6 - Chiang Rai
Stay: Le Méridien or The Imperial River House Resort
Today, we travel overland with your vehicle and local host to the northernmost province of Thailand, Chiang Rai. This area, which borders on Burma and Laos, is the point at which the Mekong River flowing down from China first enters Thailand. It is also the location of the first Thai settlements.
There are two routes to select from, one rather direct (3 hours) and the second a less traveled near the Burma border (5 hours), though be warned the latter is quite curvy, and not good for those prone to getting carsick. The latter would include passing through the mountainous area of western Chiang Rai Province towards the town at the summit of Doi Mae Salong. Considering its remote hilltop location, Mae Salong is quite modern and reminds one of being in Yunnan (China's southernmost province). This is an excellent area to see tea plantations.
If taking the shorter (more popular) route to Chiang Rai, we'll be passing Khun Chae National Park and possible stops include a Lahu market, a Lahu school if where you can meet the kids, roadside hot springs, with greater food options for lunch. We can also stop for coffee or pie. After descending later into the Chiang Rai valley, we can visit the white temple or local artisans and galleries, dependent on the time. There is also a night market each evening in Chiang Rai town.
Day 7
Explore the Golden Triangle: This will be an exciting opportunity to head north into the famed "Golden Triangle" region. The schedule will vary according to your interests but can include several highlights like the Black House on the way out of town, Chiang Saen district, and the popular Hall of Opium. Given that it provides such an extensive presentation of the history and influence of this drug, most people are quite surprised to find such a facility in this remote of an area. Time-dependent, visit the Princess Mother's garden and villa at Doi Tung, or the area of Mai Sai, which is the point at which the Mekong River first touches Thailand, and where the Thai, Lao, and Burmese borders all meet (though please note that this area is becoming increasingly commercialized). Then we'll return to the hotel by late afternoon. We suggest starting early!
Day 8
Stay: Lanjia Lodge
Hilltribe Experience: Lanjia means "peaceful" in the Hmong language, and after driving a few hours to the lodge this morning, you can spend the day learning about the Hmong and Lahu tribes in an eco‐friendly, community‐based setting. Many nearby local peoples depend on the Mekong River for their livelihood. While here, you may like to participate in activities such as batik‐making, learning how to make an animal trap, or helping plant a tree at the Herbal Plant Nursery Project. Tonight there will be dinner provided at the lodge, and you are free to wander the grounds during your stay.
Day 9 - Sail for Luang Prabang
Stay: River Lodge
Cruise: This morning we depart early by road through some of the upper Mekong's most beautiful country, where we cross the river into Laos and board the boat at around 9 AM (either via small joined cruise or private charter). This is a chance to cruise quietly through the mist‐shrouded hill country of northern Laos along a trade route that has been in use for several millennia. Along the way, a stop is made to observe rural village life and lunch is served on board. We will arrive at our overnight stopping point of Pakbang a few hours before sunset, checking in to the river lodge, where dinner will be served.
Day 10 ‐ Luang Prabang
Stay: Amantaka, Azerai, Luang Say Residence, Maison Souvannaphoum, or Sanctuary Luang Prabang Hotel
If on the Luangsay cruise, you'll be off on foot to the Pakbang market where local minority groups come to buy and sell. Later in the morning, after re‐boarding, we'll stop at a Hmong village before lunch. We'll also visit Pak Ou and the "Caves of a thousand Buddhas," and possibly a local village that makes rice moonshine. If on a charter cruise, we can make these same stops or tailor it more specifically to different stops. After traveling 15 miles downriver from the Pak Ou caves, you'll finally reach Luang Prabang, a UNESCO World Heritage Site since 1995, where your next local host will meet and transfer you to your hotel. Once checked in, you'll join your host to begin exploring this magical place. As an old French saying goes, "The Vietnamese plant the rice, the Cambodians watch over the rice, and the Laotians listen to it grow." Translation: life is slow here, and during your stay in Luang Prabang you will enjoy just that. The town sits right below the confluence of the Mekong and Nam Khan rivers, is entirely bikeable, and contains countless historical treasures with ancient palaces, temples, and charming French‐colonial architecture.
Dinner: Manda de Laos or L' Elephant.
***Scheduling Note: For those travelers arriving in Luang Prabang by air or road (rather than on a river cruise), no stay is complete without spending a morning or afternoon traveling up the Mekong River. We will still include a visit to the Pak Ou caves either on the first afternoon or the next full day.
Day 11
Wander: Today's stops of interest will likely include Mount Phousi (which allows for a fantastic bird's eye view of the area), and the former Royal Palace, often referred to as the National Museum. Other options include temples like Wat Xieng Thong (with its beautiful mosaic tiles), and the Traditional Arts and Ethnology Centre.
Day 12
Chasing Waterfalls: Today we can shop for local market ingredients for the dinner tonight and then drive to the photogenic Kuang Si Falls, where it's possible to swim. Let us know beforehand if you want to combine this with a trek, for which we'd need to, instead, start by driving 30km (about an hour) outside of town to a Hmong‐ Khmu village. Here you'd observe the local traditional way of life (though note that these minorities are no longer wearing tribal clothing having become increasingly modernized). But this would then allow us to trek 3hrs (easy walking through pretty jungle) to the falls. Either way, it may interest you that there is also a moon bear rescue center at the falls and we can also visit a local weaver on the road back from Kuang Si to Luang Prabang.
Dinner and Baci: At the home of the host.
Day 13 ‐ Siem Reap
Stay: Raffles Grand Hotel d'Angkor, Park Hyatt Siem Reap, Jaya House RiverPark, or Shinta Mani Shack
Rise and Shine: There is a wonderful opportunity see a monk processional if you can rise early enough! Just let your hosts know the night beforehand if you're interested, and they'll pick you up at around 6 AM. You'll even have the chance to directly participate, "making merit" by giving alms to the monks. After returning to the hotel for breakfast and check‐out, later you will fly to Siem Reap in western Cambodia (about a one‐hour flight).
The reason people come to this small Cambodian town is to view the ruins of the great temples and city complex collectively known as Angkor. About the size of New York's Central Park, the area surrounding Angkor Wat is comprised of all sorts of royal facilities. Beyond that, you will continue to find sites that pay homage to the Great Empire of the Khmer people, which reached its zenith in the 12th century. Here our next local host is essential and will get you oriented with the town on the way to check in. Your host, along with a private vehicle, will be with you the entire time to assure that you get the maximum amount out of your stay. There is also a night market if you want to shop and a circus if you let us know of your interest beforehand.
Day 14
With an early start, today we will try and visit as many choice locations within the complex as possible, taking a lunch stop along the way or returning to town for lunch. From the 9th to 15th centuries, Angkor was both the power base of a mighty military and political force, and the heart of a rich and sophisticated civilization. You will see many massive stone monuments, wide majestic causeways, imposing gateways and towers, all in a lush jungle setting. Some Angkor highlights include Srah Srang, Ta Prohm, Ta Nei, Ta Keo, the "Great City" of Angkor Thom, which was probably more opulent than most European cities in the late 12th century, the Terrace of the Leper King, Phimeanakas Temple within the Royal Palace enclosure, Baphuon Temple, and the famous Bayon Temple with its multiple stone faces. After enjoying sunset drinks on the moat of Angkor Thom, this evening you will be on your own for dinner, and there may be some things going on in town. Your local host can provide details.
Day 15
Morning: Start by exploring some temples about 15 miles beyond the Angkor complex like the enchanting Banteay Srei and Banteay Samre. You may also pass some local villages.
Countryside: Enjoy riding on an ox‐ cart and a boat, receiving a blessing from a monk, and listening to traditional Khmer music. Wear comfortable footwear, and also cover shoulders and knees when entering the monks' pagoda.
Day 16
Meditate: This morning you can enjoy the traditional Angkor Wat sunrise experience at the main historical site, especially popular with photographers OR we have arranged for an alternate pre‐dawn meditation at a nearby temple, which is quite unique.
For the latter, you would depart from the hotel just after 4 AM to join the monks of Phnom Krom Pagoda in their morning prayers and meditations. Good walking shoes are essential if you would like to climb the path and steps to the pagoda (or we can drive), a pagoda which sits on a hill overlooking Tonle Sap Lake. You would be climbing in darkness, only guided by flashlights and the moon. Once at the pagoda, you will meet the Abbot and an elder monk and begin going through the procedures for the morning ceremony. Our local host will both translate and show you the correct method and manners for the occasion.
~ TONLE SAP LAKE ~
Siem Reap is home to the largest lake in Southeast Asia, and we can visit an authentic floating village if you have an extra day. Likewise, another option is taking an excursion through the lake to the bird sanctuary at Prek Toal, a core area of the Tonle Sap Biosphere Reserve, and the single most important breeding ground in Southeast Asia for globally threatened large water birds. The area plays host to species including Greater and Lesser Adjuncts, the Black‐headed Ibis, the Painted Stork, the Milky Stork, the Spot‐billed Pelican, the Grey‐Headed Fish Eagle, and many others, though a visit will largely be dictated by seasonal and weather conditions.
~ SIGNATURE EXPERIENCES IN SIEM REAP ~
Additional arrangements can be made for Angkor experts, a countryside photowalk, tickets to the circus, or ventures to the countryside.
Just before dawn, the monks begin a purification ritual that includes chanting, prayers, a sermon (which your host will translate), and a final blessing with holy water by the Abbot. The ceremony concludes just as the sun has risen (at around 6 AM). After enjoying the great view and a light picnic breakfast, you will bid the monks goodbye and travel back down the hill. This is undoubtedly one of the most‐loved Asia Desk moments according to returning clients, and was highlighted in Condé Nast Traveler's "The Fabulous Fifty: Experiences That Only Insiders Can Deliver."
Sandy's Tips:
Scheduling Note: Some trans‐Pacific air carriers depart from North America around midnight, thus arriving at destination by late morning of the third day, therefore eliminating the need for an overnight in Bangkok.
Always keep in mind that the daily activities, the pace, and length of the day, are all set by you and our local host when you're on the ground. The daily activity suggestions, many of which are mentioned in our sample itineraries, are designed to enrich your experience with each place and the people but are not set in stone. We always make sure Asia Desk plans are flexible to account for the spontaneous, making your experience that much more memorable!