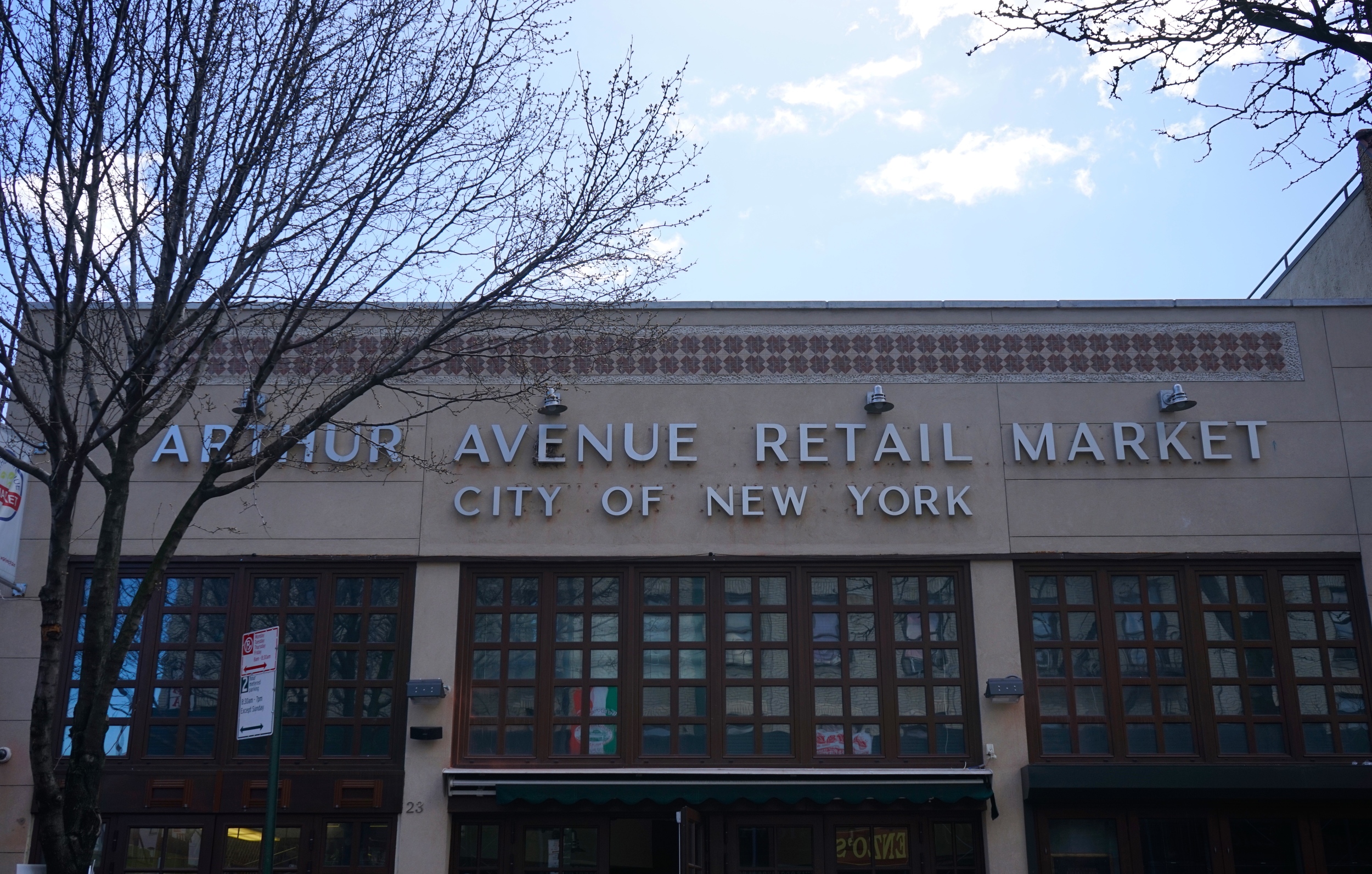 Touring Arthur Ave with my good friend JoJo Rubach, I felt like part of an episode of travel television, akin to Anthony Bourdain's No Reservations. Here we were exploring an authentic New York neighborhood, still honoring the traditions of the past, and thankfully not yet gentrified like most of todays NYC. JoJo is a great cook who thinks nothing of entertaining weekly for dozens at home or hundreds at his famous Giant tailgates. He shops on the "Ave" every week and I tagged along to see all his favorite stops. Whether you're local or visiting New York, come stop by and have something to eat and drink while experiencing this Little Italy neighborhood of Belmont in the Bronx.
Wake Up: If you're early enough (and JoJo usually is arriving around 6:30-7AM) you'll see the other shop owners at Morrone Pastry Shop and Café having their morning espresso. Make sure to get an anisette cookie on the side. Later, stop at Artuso to bring home the best cannolis.
Bread: There are two bakeries JoJo frequents on the Ave-- Addeo and Sons -- to get fresh pizza dough and the traditional seeded Italian, and Madonia for a great selection of specialty breads. Try the jalapeno if you like spice; it's got quite a bite. The olive is bursting with olives, not just a speck here and there. Warning: if you get the white chocolate bread you may not make it home with it, and it'll be delicious with your morning coffee. The chocolate cherry bread isn't so bad either.
Go Fish: Plan on making calamari tonight? At my local fishmonger there's one choice. Here, at Randazzo's, you can get baby or larger squids, or maybe change your mind and go for the richer sepia instead. Wait—the tiny pulpos look good too! In business close to 100 years, this is the place for beautiful fresh fish and friendly helpful service. I was amazed at the assortment of fish; there are definitely things you've never seen before. A plus for me: they always have Langoustines, which are not easy to find. In the warmer months, there is a raw bar set up on the street in front of the store.
The Market: A big thanks to Mayor Fiorello La Guardia back in the 40's for deciding to get the vendors off the streets and into covered market places. The Arthur Ave Retail Market was born—a home for all things Italian under one roof. Two of JoJo's favorite's are here in the market—Mike's Deli and Peter's Meat Market. There's also the Bronx Beer Hall, Boiano for fresh produce, and Cafa Mercato for delicious Sicilian pizza. When you walk in you'll pass La Casa Grande, men and woman at work hand rolling freshly made Dominican cigars. (Ok, almost everything's Italian.)
The Ambassador: We spent awhile chatting with David Greco at Mikes Deli. To me, he is the face of Arthur Avenue, the man who beat Bobby Flay in a Throwdown with his eggplant parmesan (it is that good)! Talk to David for a few minutes and you can see his love for the Ave and the foresight to preserve tradition while staying relevant and contemporary. Try one of the heroes such as the Italian Combo or the Michelangelo. Take home some of the big rice balls, and the smaller ricotta balls light as air with prosciutto. You'll want a lot of these for your next dinner party.
Have it Your Way: JoJo is like a hero at Pete's--he gets such a welcome. Personal service and quality meats are why he's been coming here for years. If you cook regularly, a good butcher is key. Pete and Mike deliver personalized service; they can get you whatever you need and prepare it as you wish. Call ahead and they'll have everything ready for you. JoJo has a special, secret blend of meats he likes in his burgers—make sure to tell Mike or Pete you want the JoJo Burger!
House of Mozzarella: Go early to Casa della Mozzarella, before the lines, which are guaranteed, for the best mozzarella. Take a peek in the back where you can see why—they are making it right there, right now. It's hard to buy supermarket mozz ever again. The homemade mozzarella at Mike's Deli is equally as good. Dave gave JoJo and I a taste, it was warm, made mere seconds ago. Talk about fresh.
Teitel Brothers: We stopped in here for a wedge of fresh Parmesan, sausages, and the large selection of imported dried goods. Stock up on pignoli nuts for your pesto, half the price of what you'll pay at your neighborhood shop.
Pasta: At Borgatti's Ravioli and Egg Noodles watch the pasta rolled out and cut to order, as it's been done for over 80 years. You decide the width, and with a sprinkle of cornmeal, you're on your way. Once home all you need is a quick 2-minute boil, some fresh pesto and voila--pasta heaven. Don't leave without a box or two of the spinach or porcini raviolis, which are best fresh but good to keep in the freezer for last minute meals.
Eat: For old school Italian, Dominick's or Mario's. Roberto's is a classic right of the Avenue, and JoJo loves Roberto's more casual Zero Otto Nove. Try the excellent pizzas, baked pasta and Insalata de Mari. Friends have been telling us we must try Tra Da Noi, so that's next on the list.
Take Me Out to the Ballgame: Arthur Ave is a popular spot for dinner before Yankee games. If you're going to see the Bronx Bombers you'll be in good, lively company at any of the restaurants. If not, go after 7 when the fans have been fed and are on the way to the stadium.
Nearby Attractions: Spend part of the day at the nearby Botanical Gardens or Bronx Zoo, and visit Arthur Ave either for lunch or dinner. The extremely cold and long winter was good for something after all--the experts at the Botanical Gardens are predicting that due to the delayed spring it's going to be a fantastic year for flowers. Go late April through May to experience it at the peak.