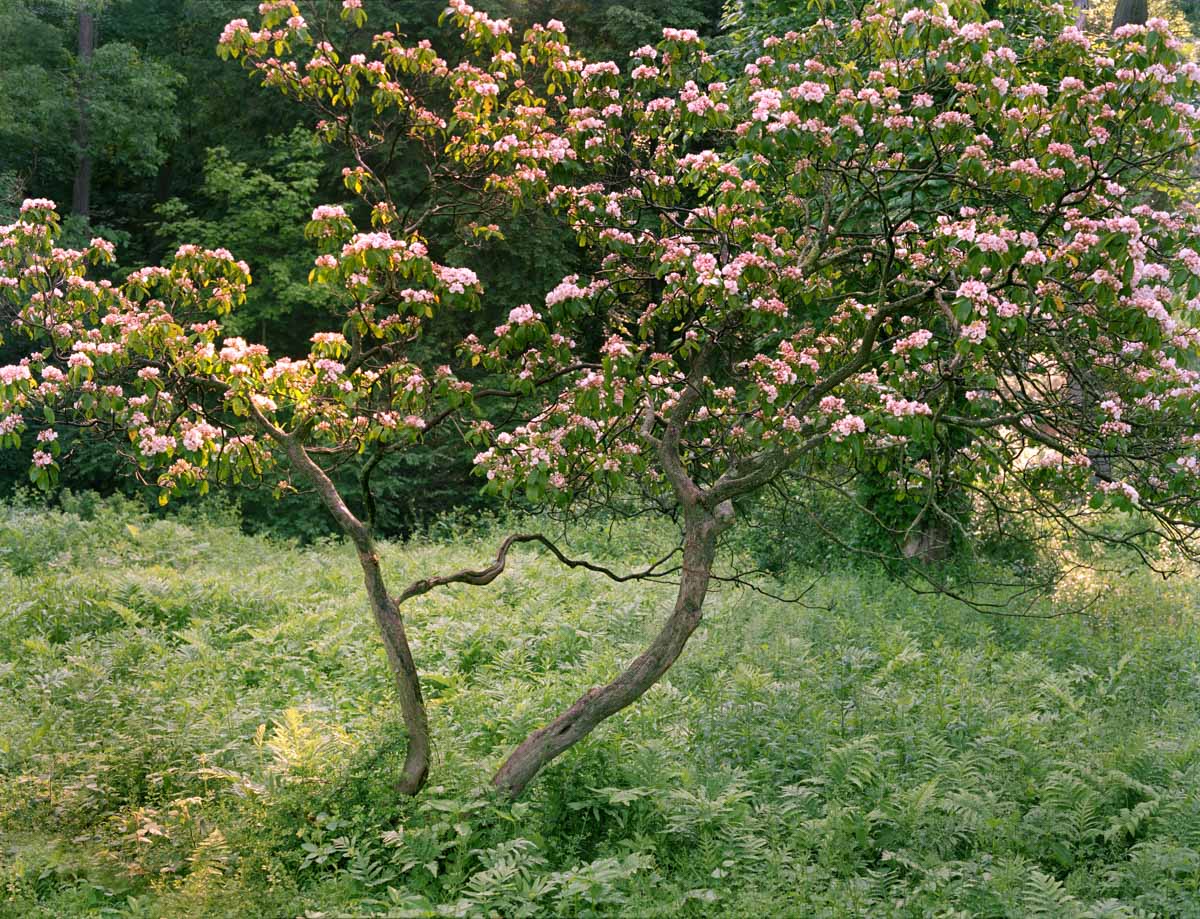 One hour north of NYC, the neighboring towns of Bedford, Katonah and Pound Ridge ooze country charm. Horse farms, stone fences, old oaks, and country roads are dotted amongst lavish estates and white clapboard houses. The feel is unspoiled rural rather than suburban. There are many nature preserves and parks, which provide miles of wooded trails and varied terrain. Come hike with DT365 as we share some favorite hikes in Northern Westchester.
Stay: A Relais & Chateaux property, the 8-room Bedford Post Inn, is set on 14 acres and lovingly restored by actor Richard Gere, himself a Bedford resident.
Breakfast: The more casual of the Inn's two restaurants, start the day at The Barn. I prefer the rustic, cozy, wood-beamed room to the Inn's more upscale restaurant, recently renamed Campagna after big time Chef Michael White took the helm.
Morning Yoga: It would be hard to find a prettier spot for a morning class than the Yoga Loft at the Inn, converted from an old barn dating back to the 18th century. There is a full schedule of daily classes and workshops-- check the online calendar here. Yoga has been big in the area; way before it became trendy. Nevine Michaan and Abbie Galvin are the real deals and have quite a following at Katonah Yoga. Susan Kullman's Intentional Wellness and Yoga Center (Now with a NYC location) offers, Yoga classes, meditation and wellness workshops. If heat is your thing, Alison Aronson at O2 Living in nearby Cross River has her fans for her fun, challenging hot yoga class and her engaging, welcoming personality.
Art: Founded over 60 years ago, the Katonah Museum of Art is truly a community driven, local treasure. It's very small with just 2 exhibit rooms, yet the shows are well done and well presented. There is a nice sculpture garden, and in the summer months outdoor concerts on the lawn.
Lunch: The hamlet of Katonah is a bit of a throw back with no Starbucks, no traffic lights and historic homes lining Bedford Avenue. You can just feel how Katonah is proud it has retained its small town feel. The Blue Dolphin is a really cute spot, set in a converted diner. The Italian menu offers salads, panini's and pastas at lunchtime. The new Reading Room from the owners of Little Joe's Coffee and Books around the corner, is a place to linger on the porch with your sandwich, salad or coffee. Want to just grab a quick slice, Pizza Station, has the standard pies and tons of specialty slices.
New Kid on the Block: Taking over the old Meeting House, across from the quaint Village Green in Bedford, new owners Mitchell and Lynn Samberg have created a cozy, casual new restaurant—Bedford 234. It's been packed since it opened, serving a seasonal menu featuring many local products. (Dinner and brunch only, lunch coming soon)
Dinner: It was big news for locals when Jean Georges Vongerichten, a chef big enough to be known without his last name, announced he was renovating a classic 1833 Inn and opening a farm to table seasonal restaurant. The Inn at Pound Ridge by Jean Georges is beautiful-- casual, elegant and rustic all at the same time. You'll want to move in. Though I have had hits and misses, if you order the Jean Georges classics such as: his spring pea toast, crab crostini, kale salad, black truffle pizza, and lobster roasted with chili you'll be happy.
Summer Concerts: Grab a blanket, pack a picnic hamper, and don't forget the wine before heading to Caramoor Center for the Arts. During the day you can visit the historic Rosen House and Gardens, but the big draw is the evening live music concerts, mostly Classical, Jazz and American Roots, on this 90 acre estate. The season officially opens June 20th, but there are concerts all year.
Hikes: Amy and I lived around the corner from each other when our kids were little and all-best friends, in the way that is so easy when your young. We shared countless phone calls every morning: "I'll do the pick up from school…can you meet the bus…is their another snow delay… please, please can you babysit the guinea pig when we're in California." Most mornings Amy would ask, "Do you want to go for a walk?" For Amy is a walker, a hiker, and usually I'd pass her on the road out walking. Time moves on, the kids drifted, I moved to the next town over, and the day to day shifted to a different friendship. Now before Amy walks off next week, after a lifetime in Northern Westchester to move to Colorado, because the West speaks to her, and the kids are out of the house, I asked her to share her favorite hikes in our surrounding neighborhoods. I will miss the miles we've traveled together.
Amy's Walks on the Wild Side: Northern Westchester is home to several exceptional hiking trails that remain relatively undiscovered by the masses. Nestled throughout Pound Ridge and Bedford, they offer hikers of all levels an opportunity to escape the everyday bustle and enjoy the beauty and serenity of the woods.
HIKE ONE: Mianus River Gorge
An absolutely stunning 4 mile hike that boasts old growth woods, panoramic views and craggy crossings. Follow the river by taking the red trail to the green trail and keep climbing. Paths are well marked but rugged, and fallen trees sometimes block the way. There are steep rock steps, wet crossings and slippery slopes, but the trail is well traveled and worth the effort. Definitely go off road for an up close look at the reservoir and Havemeyer Falls. Pack a light snack and water, find a rock outcropping to enjoy your picnic, and continue on to point C. Before heading back, make sure to etch your initials into the tree bark at the water's edge. Rock lovers may choose to explore the quarry, but it adds an extra 15 minutes to the hike. Follow the blue arrows home.
Note: Keep in mind that dogs are not allowed on the trail.
HIKE TWO: Westchester Wilderness Walk
A privately owned family preserve, this sanctuary offers hikers a living escape from reality. Just off of Upper Shad Road in Pound Ridge, hikers will find steep and circuitous trails that traverse pine forests, wetlands, open fields and running streams. Markers can be difficult to spot, so look for the blue blazes on rocks and trees and stay within the log borders. Don't miss the Grand Stone staircase on the East trail or the mossy waterfall on the southern one. Also, pay attention to the imaginative and descriptive plaques that highlight nature's playful sense of humor. Remember, these woods are less traveled so bring a map and allow an hour or two for intrepid exploration.
Note: Parking is limited. Leash laws are not always in effect.
HIKE THREE: Ward Pound Ridge Reservation
The crown jewel of outdoor recreation, the "Rez" offers Daytrippers a chance to experience natural beauty in all its wonders. This park is spectacular with its open fields, grassy meadows, flowing creeks, and organic art. Options are limitless as picnicking, fishing and camping are all available. Though there are many trails, and each one is worthy on its own, my favorite is the most remote hike in the park at Kimberly Creek. Park at Kimberly Creek, it's the furthest lot from the gatehouse. Before lacing up your hiking boots, wade in the creek, catch a few crayfish, and enjoy a barbeque or picnic. If you are lucky, a local musician will be perched on a rock across the stream strumming a guitar or rosining a violin. Head to the brown trail marker by following the creek, wading through marsh and entering the woods. This hike follows the creek and then climbs precipitously to reach higher ground. At the junction, head left to continue on Deer Hollow (DH) for more rugged terrain and off-trail hiking. This 90-minute hike immerses trekkers in the majesty of the woods and allows busy minds to quiet and reconnect with nature.
Helpful Hints: Take the map from the gatehouse keeper to familiarize yourself with the trail. Bring a whistle as bears have been spotted in the woods. You can rent a lean-to and camp overnight at Ward Pound Ridge.
* A big thank you to William Abranowicz for his gorgeous photos, above, of the Mianus River Gorge. To commemorate the 60th anniversary of the Gorge, Bill was allowed unlimited access, even during the winter months when the trails are closed. To purchase his beautiful book--A year in the Mianus River Gorge--click here. All proceeds from the book sales go to supporting the Gorge.