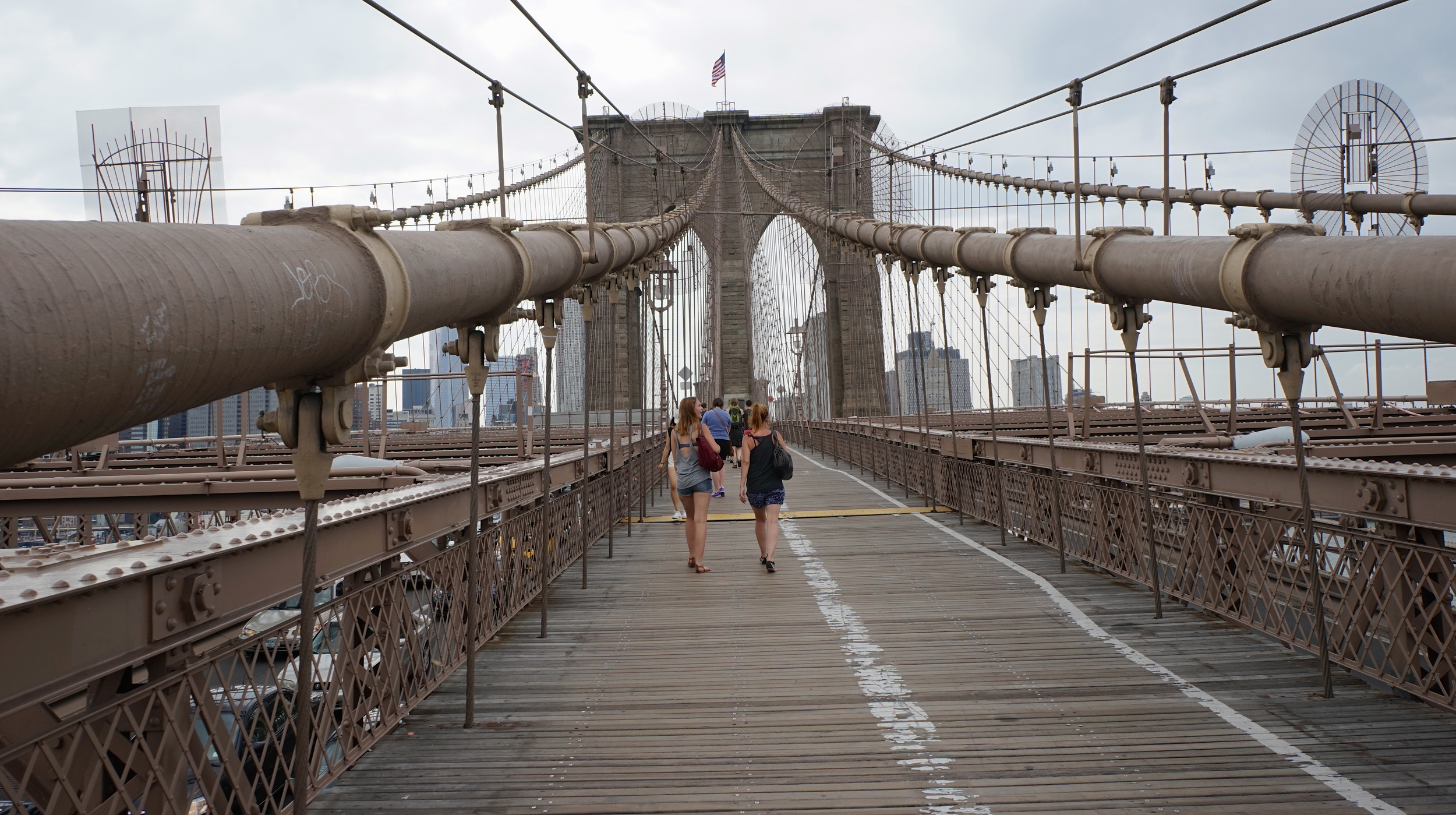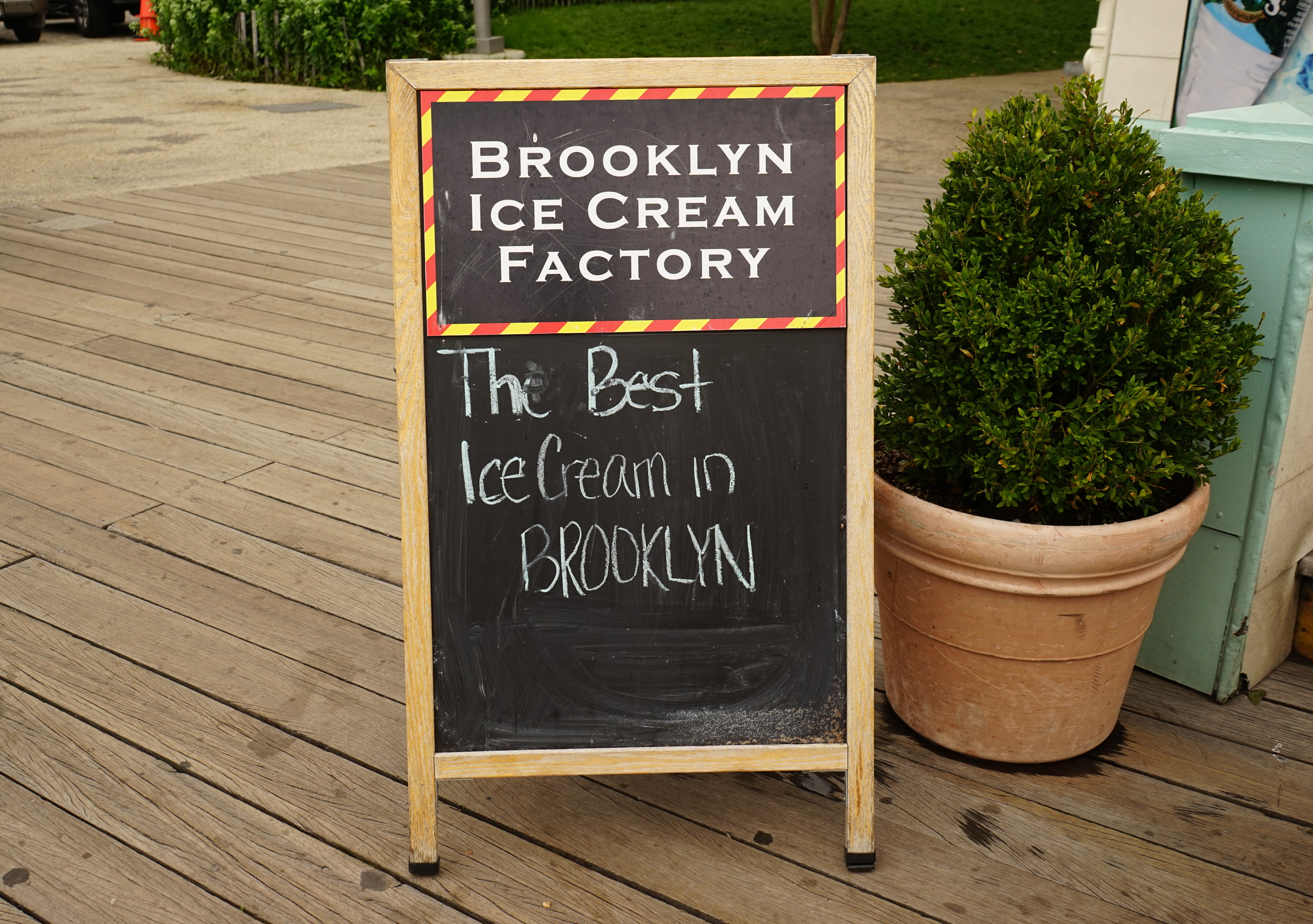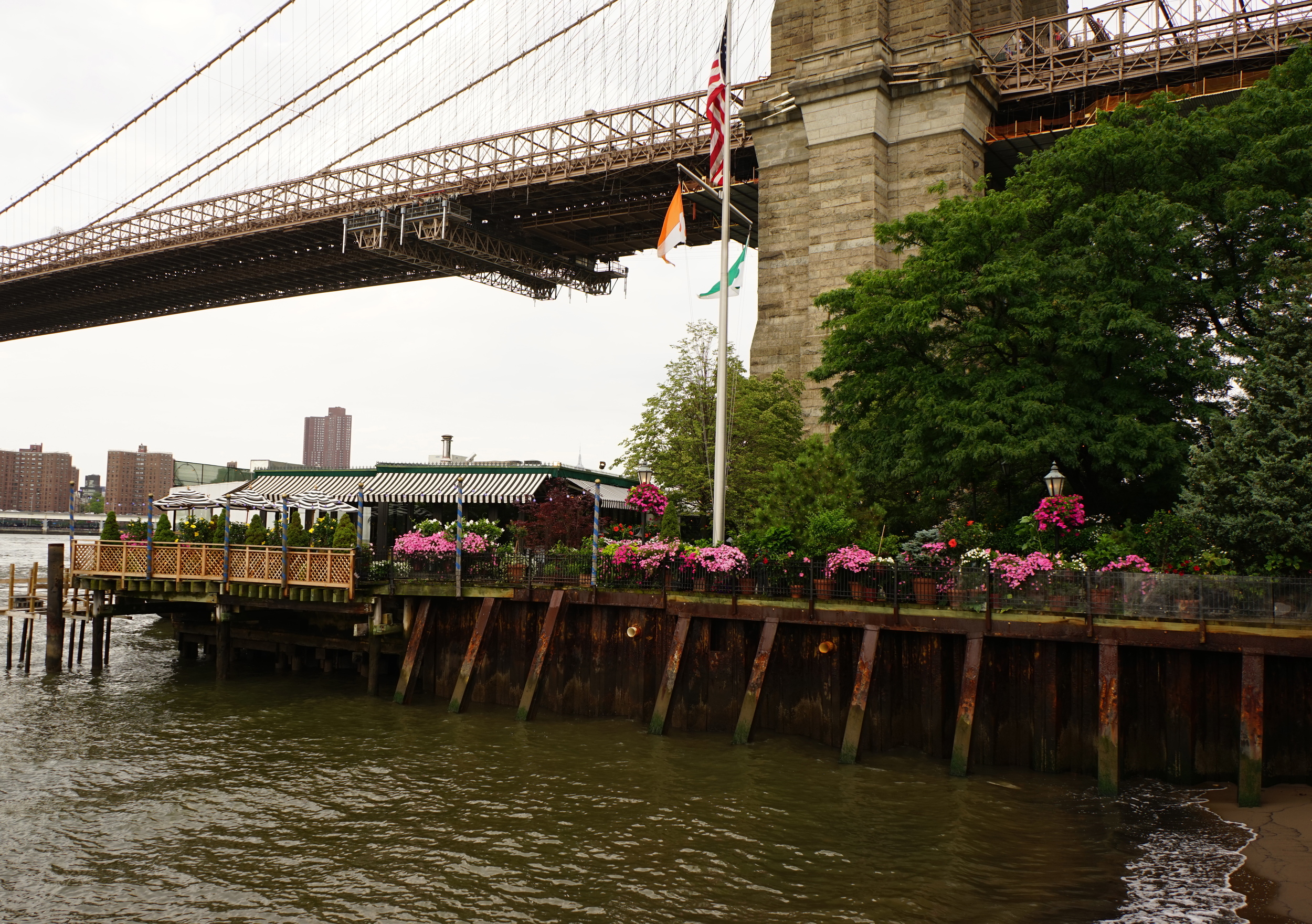 A walk across the Brooklyn Bridge: it's one of those bucket list things to do in NY. As a lifelong resident, I hate to admit it's something I had never done. (And now that I have, I want to return at sunset.) Starting at the Brooklyn side, in Dumbo, I walked across the bridge and back, afterwards spending the afternoon enjoying Brooklyn Bridge Park.
Breakfast Sweets: For some of the best croissants, macaroons, and baguettes in NY head to Almondine Bakery, where Chef Herve Poussot bakes everything on site.
Quick Coffee: Brooklyn Roasting Company has two locations in Dumbo, the roastery and headquarters on Jay Street and an outpost in the West Elm Market.
The Main Event: I started on the Brooklyn side, walking towards Manhattan and the view of the skyline. Depending on your pace, and the crowds, it should take between 30-40 minutes to go all the way across. You must walk at least halfway to enjoy the best views. There is a pedestrian walkway above the traffic, but be warned one side is reserved for bikes, many who travel fast! Stay on the walker's path! The bridge itself is beautiful; the views in all directions, including the Statue of Liberty, are expansive and it's fun to watch the car traffic crossing the bridge below.
The Park: It's pretty incredible that under the Brooklyn Bridge, what was once an industrial area is now an 85-acre park running along the East River, spanning 1.3 miles from Atlantic Avenue to Jay Street. If you haven't been--go--you'll be impressed. Take a date, stroll, hold hands, get an ice cream, then go home and watch Woody Allen's Manhattan or Annie Hall—you can thank me later.
Sports and Recreation: There are six piers, each unique —for example, Pier 2 has basketball, handball, bocce and shuffleboard courts while Pier 5 is home to 3 athletic fields used for soccer, lacrosse, cricket and rugby. There are themed playgrounds, including a popular water lab and sand volleyball courts, at Pier 6.
Public Art: On site till April 2016, is Danish Artist Jeppe Hein's exhibit, Please Touch the Art, featuring 18 sculptures spread across the entire Brooklyn Bridge Park. There are 16 Modified Social Benches, Mirror Labyrinth NY, resembling the NY skyline, and Appearing Rooms formed out of jet water, that appear and disappear to everyone's, especially children's, delight. (Appearing Rooms is only on display till September 28th.) Print a copy of the Scavenger Hunt before you go and don't forget to wear comfortable shoes.
Fulton Ferry Pier: Adjacent to Pier 1 is the site of Brooklyn's first ferry landing dating back to 1642. Linger here for gorgeous views of Manhattan and the Brooklyn Bridge. Bargemusic , in a renovated coffee barge moored at the landing, has excellent acoustics and killer views at their classical music concerts. Join the line at the deservedly popular Brooklyn Ice Cream Factory, in a landmark fire boat house. Serving just 8 flavors, order the Butter Pecan. Watching Chef Michael Psilakis, back in 2010 on Food Network's show, The Best Thing I Ever Ate, first brought me here to try it. I don't usually like Butter Pecan, but trust me, it is now on my list of one of the best things I ever ate…
Next Stop: On the other side of the Ferry Landing, housed in an all weather pavilion, take a ride on Jane's Carousel, a beautiful restored 1922 merry go round. After your spin, check out Brooklyn based artist Tom Fruin's colorful garden house, Kolonihavehus, made of plexiglas and steel. Fruin's 20 foot water-tower can be seen from Pier 5, a tribute to iconic water-towers still a part of NYC's landscape. Meet the artist on September 10th, when Fruin will be leading an artist talk at 7 pm. Sign up here. The Park also conducts Wednesday evening tours, to see the schedule for upcoming tours click here.
Lunch Time: Located right at the Ferry landing is No. 7 Sub, dubbed the "Willy Wonka of submarine sandwiches" by the NY Times, known for it's creative combinations, especially the broccoli classic. Enjoy a lobster roll at Lukes Lobster or head across the street to a brand new Shake Shack. You'll see the constant lines waiting to try world famous Grimaldi's coal oven pizza, and right next-door Juliana's, where the line is usually shorter and some say the pizza may even be better. Looking for more of a sit down meal, try Atrium, an industrial bi-level space serving contemporary French fare.
Only On Sundays: Smorgasburg is at Brooklyn Bridge Park, Pier 5, from 11-6. This is the ultimate food flea market with over 100 vendors showcasing their packaged and prepared foods. Come hungry and be prepared for crowds.
Dinner: If you're still around for dinner head to neighborhood favorite Vinegar Hill House, go early and try and get a table in the back garden. Or over at Pier 6, Fornino offers rooftop seating, views included, to go along with their artisan pizzas and salads. The downstairs is open all day, serving breakfast pizzas and other brunch/lunch items starting at 10 am weekdays, 9 am weekends.
FYI: In case you were wondering, DUMBO stands for Down Under The Manhattan Bridge Overpass.
Logistics: It's not so easy to find the entrances to the walking promenade…for detailed information including nearby subway stops and more information about walking the bridge here are some helpful links.
How to Walk the Brooklyn Bridge