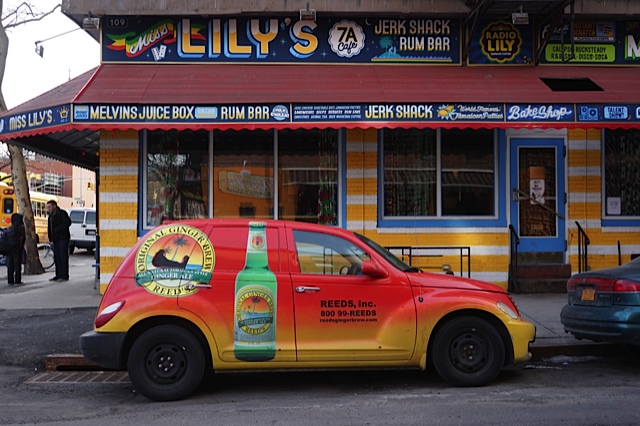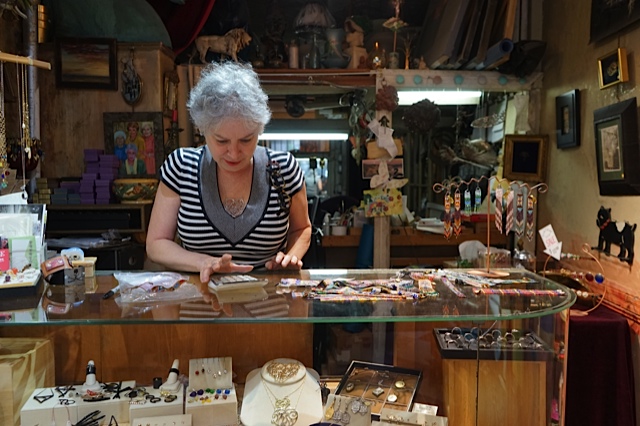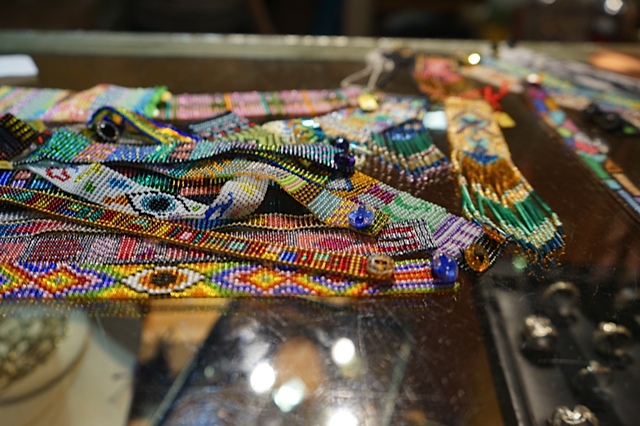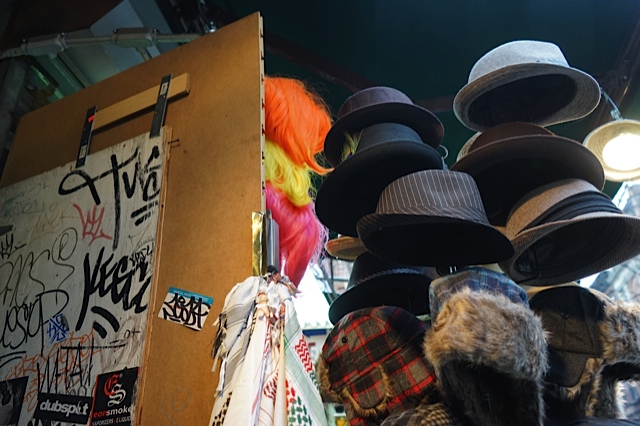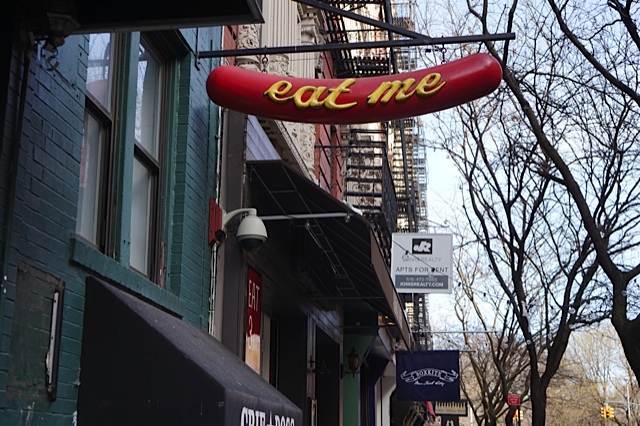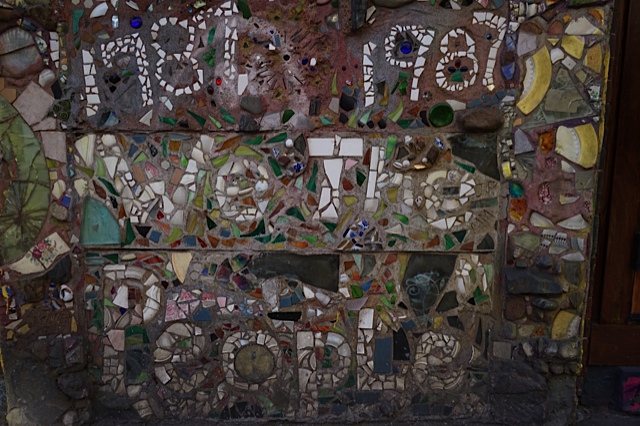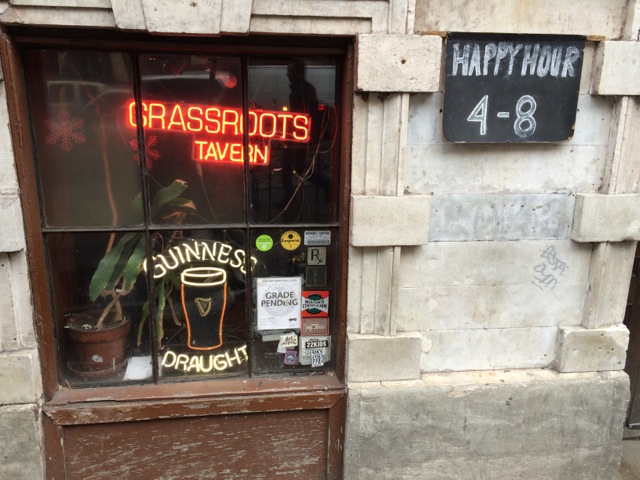 St. Marks Place is technically an extension of 8th Street, a three-block span from 3rd Avenue to Avenue A. (After Tompkins Square Park 8th St. picks up again.) Touristy, kitschy and sometimes grungy, St. Marks is still one of the mainstays of the East Village and holds a special place to New Yorkers. Traces still remain of its punk rock and hippie past though sadly Electric Circus and CBGB are now gone. Start at Cooper Square and end at Tompkins Square Park exploring an historic and certainly colorful NY street.
Take a peek: Start at the corner of St. Marks and 3rd looking downtown at 41 Cooper Square, the new modern, green building designed by architect Thom Mayne. You can't miss the striking design of this new academic building that's part of Cooper Union and now part of the landscape of the East Village.
Colorful: As you head down St. Marks the stretch from 3rd to 2nd Avenue is filled with head shops, tattoo parlors, sidewalk vendors and an always interesting mix of people. Popular with tourists, young people and NYU students, it's a colorful cross section of the East Village and can get traffic clogged especially on the weekends.
Dress on the Wild Side: Looking for some new alternatives to your everyday wardrobe? Stop in Trash and Vaudeville to satisfy the inner rocker in you. Founded in 1975 by Ray Goodman this is the place for rock, punk or goth styles, one of the last true remnants of the glory days of punk left on St. Marks.
Book Lovers: I used to spend many late night hours at the now relocated St. Marks Bookshop, which if your searching for it moved this past summer to a brand new location in the Historic First Houses building on East 3rd Street just west of Avenue A. (Previously it was off of Third Avenue after it's move from St. Marks Place) Go check out the new space and support one of NYC's oldest independent bookstores, there are very few left.
Slurp: Wow, these soup dumplings are good! The Bao specializes in Xiao Long Bao, freshly prepped each morning and handmade to order. Served in a light filled friendly space overlooking St. Marks, the sister restaurant to Kung Fu Xiao Long Bao from Flushing, also serves Szechuan, Hunan and Taiwanese dishes. But go for the dumplings!
Dive Bar: Grassroots Tavern feels like it's been here forever, and the inside looks like it hasn't changed since it's grand opening. Meet some friends, have some beers, play a round of darts and feel like your back in college. Probably most of the people around you still are.
Extra, Extra: Get your newspaper or magazines at Gem Spa, this corner newsstand, open 24/7 is also known as being the home of the original NY Egg Cream. Gem has quite a history; in the 50's it was a hang out for the beat generation changing guard in the 60's to the hippies who came for the well-stocked supply of underground magazines. (Fun fact: an egg cream is made of seltzer, chocolate and milk—there's no eggs or cream except in the name!)
Wander: As you cross 2nd Avenue, St Marks becomes quieter and more residential. At 1st Avenue heading towards Avenue A, more and more restaurants appear, the new changing face of St. Marks, as it emerges as a diverse street to eat, and eat well on.
Noodles: Right before the corner of 1st Avenue is Xi'an Famous Foods known for its hand-ripped noodles. With no real space to eat, just a few stools in the tiny place, this is a true eat and run experience. Known for their Spicy Cumin Lamb Burgers and Hand Pulled Noodles made with their own secret spices--I go out of my way to stop here when the craving hits for the Concubine Chicken Hand Pulled Noodles. Now with 6 branches spread over New York City and Queens it's easier to get my noodle fix.
More Dumplings: More standard style then at Bao, the tiny Dumpling Man is popular for its selection of pork, veggie, chicken or shrimp dumplings. Seared or steamed, get a sampler pack so you can try them all.
Take me out to the Ballgame: There's always a line outside of Crif Dogs, and once you try one you'll know why. This is not your ordinary hot dog, it's in a whole other league. I'm partial to the Spicy Red Neck: an all beef dog, bacon wrapped served with chili, coleslaw and jalapenos, it's a homerun.
Can't wait for Spring: How nice on a warm day to sit outside at Mogador and watch the parade of people go by. This family owned Moroccan-Mediterranean specializes in delicious couscous and tagines. Mogador is a great spot for a lively weekend brunch, there's a second equally popular location on Wythe in Williamsburg.
New guy on the block: Hot Chef Alex Stupak of Empellon and Empellon Cocina has a new restaurant -- Empellon Al Pastor on the corner of St. Marks and Avenue A. It's more casual and affordable than his other places, try the namesake tacos and a ice cold beer or margarita from the bar.
Jamaican Me Crazy: If there's a wait at Miss Lily's 7A , no problem, hang at the bar at this funky, fun Caribbean inspired restaurant and order a frozen Dark and Stormy or a Lily Colada or Punch. The second location of the wildly popular Miss Lily's on West Houston, it offers the same delicious Jerk Chicken, West Indian Veggie Curry Stew, Pepper Shrimp and the Jerk Grilled Corn. There's even a Jerk Ramen for the ramen obsessed. And if your being clean order Melvin's Body Good Salad. Open late night and good for brunch...how does Jamaican Rancheros and Coconut Pancakes sound on a Sunday morning, perhaps with a little hair of the dog? There is no separate Melvin's Juice Box at this location, but you can get his fresh organic juices here. Melvin is a NY juicing guru, stop by the store on Houston if you're interested in a full juicing one to five day cleanse. (You can order online-- delivery is available within NYC and parts of Brooklyn.)
A friend's East Village Outing: I asked my friend Amy, a life long New Yorker, for her idea of an ideal day in NYC and she said her family will often spend a whole afternoon on one street, with East 7th a particular favorite. As it's right around the corner from St. Marks I included her notes here:
7th Street between Avenue A and 1st Avenue has it all--dinner, desert, and shopping. This is true for many streets in the East Village, but we have enjoyed dinner outside in the back of Giano Restaurant many times. It's an authentic Italian restaurant with consistently good food and a quiet courtyard, super for talking, not people watching. After dinner, we head down the street to Big Gay Ice Cream for a serving of soft ice cream dipped in chocolate pretzels. (They offer many different dippings and combinations.) It reminds me of the old fashion Carvel Chocolate Bonnets, but ramped up a few notches. If you like soft serve, you will love it! Be prepared, there is usually a line, but the people are interesting and that's part of the experience-enjoy it! While waiting for an ice cream, I like to go next door for a shot of butter cream icing from Butter Lane Bakery (I like the icing shot for $1 better than the whole cupcake, but that's me). I always try to stop at the Still House for really cool and unusual items for the home. They have one of a kind pieces, many signed by the artist. Last time, I bought a hand blown white opalescent glass bud vase for $35. They are open at night, but check the store hours.
Amy's other favorites: Other favorite meals in East Village: Northern Spy Food Co. on 12th Street for farm to table, Vesellka for pierogi's, blintzes and potato pancakes, and Falanghina on St. Mark's near Avenue A for authentic Italian-- pizza, pasta and salads. It's cozy for late afternoon wine and snacks or early Sunday dinner.