Every group has their go to person, the one who always knows the latest and greatest: ranging from the newest technology, the hottest restaurants, the best gear to where to stay in far flung destinations. Bryan V. has always been that person. He spends countless hours discovering interesting things—products, services, apps, restaurants and most exciting to DT365—experiences and activities. Bryan's energy and joie-de-vivre is infectious when he's talking about his latest finds. How lucky we all are that he has started a website, The Find, a bi-weekly guide aimed at "making your life easier and better. " We love getting his newest posts in our inbox on Tuesdays and Fridays. (Subscribe and you can too!) Below he shares two recent finds—we love how Bryan groups activities with nearby dining destinations for a complete mini itinerary. Reading these posts inspired us to get a group of friends together and plan a night out soon...whose in?
— THE FIND'S SHAKES AND SHOTS —
Engage: Shakes(beer) or (Shot)speare, choose your poison! The following formula might just be the perfect night out…Take Shakespeare, add an inebriated actor, plus an audience fueled with cocktails to give you an evening of Debaucherous Fun. No need to read further, just buy you're tickets now for The Drunk Shakespeare Society. The premise is simple--at each performance, one of the actors' drinks to excess (a minimum of 5 shots), at the start of the play. The other actors' improv as everyone gets more and more rowdy. We actively watched a Macbeth performance where we were felt up, ground upon, and included in the dialogue. They say, "anything can happen" and based on our antics, it does. Did you know the Common Core dictates that Shakespeare is the only reading required of American High School kids? The Find agrees and is making this new spin on Shakespeare part of our Common Core of required activities!
Dinner: After the show, walk (or drive) up to tiny Danji for small plates of delicate and delicious Korean food. Of note, Danji is the first Korean restaurant to earn a Michelin star in NYC. This is not surprising given that the chef/owner Hooni Kim is a veteran of Daniel and Masa. The restaurant is well designed, the music is upbeat, the crowd stylish, and most importantly, the food is inventive and delicious.
Brush up on your Shakespeare and consider The Drunk Shakespeare Society and Danji Found!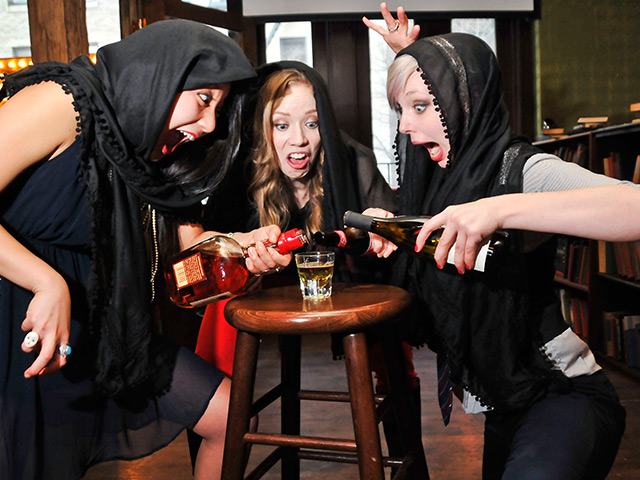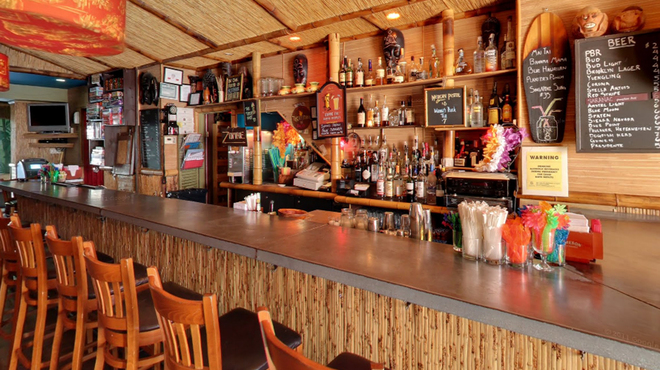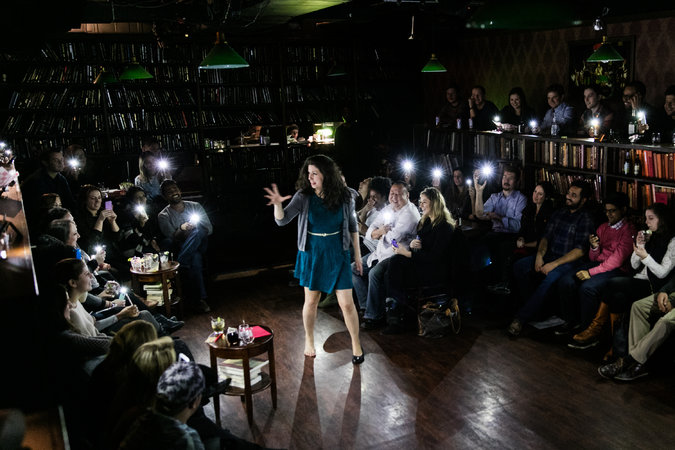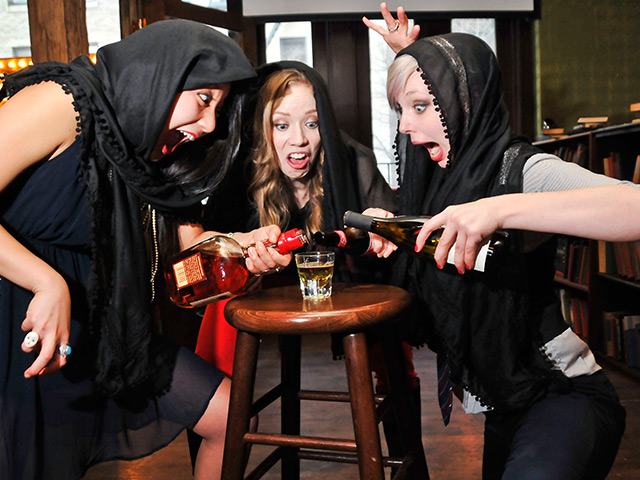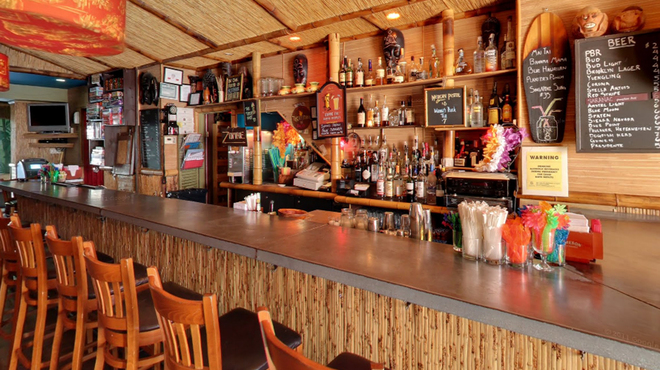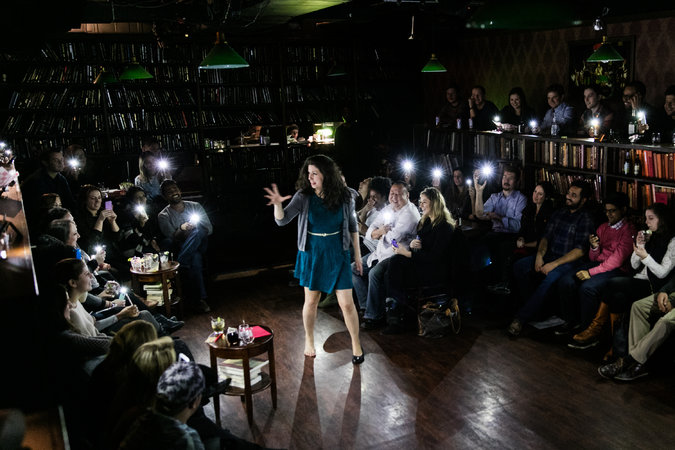 — ThE FIND'S NIGHT SHUFFLE —
Play: This Find is the long forgotten sport (leisure activity) of shuffleboard where you can compete with your friends by using your Tang (stick) to push your biscuits (clay discs) into position. Head to Royal Palms in Gowanus for a night you won't forget. And unlike bowling you can wear your own shoes! If you have memories, like me, of playing shuffleboard at your grandparents' 'community' in Florida, now you can relive those memories without seeing the family, without the blazing sun, and with plenty of alcohol at the Royal Palms. Bring your crew, or a date, and get ready for some friendly competition. There are plenty of courts (10), great music, over-sized board games, and a lively bar with a kitschy aesthetic of flamingos, palm trees and umbrellas in your drinks. Best to go Wednesday and Thursdays as Mondays and Tuesdays are league nights and weekends can get very busy; however, groups of 10 or more can reserve a cabana in advance to avoid any waits.
Eat: Lucali Pizza is the perfect pizza and pairing for the evening. No reservations, BYOB, and no matter who you are, you wait (Beyonce and Jay blew off the Grammy's for a night here.) Due to the popularity and lack of reservations, this is not good for more than 8 people. Lucali starts taking names at 5:30 — go yourself or send someone in your crew, and they'll call your cell phone when your table is ready. When its time to order, those in the know come for the pizza and stay for the calzone. The calzone is a must, as it is cooked to crispy dough perfection, and includes 4 varieties of cheese. As for pizza, I particularly enjoyed the mushroom & shallot pizza, as well as the pepperoni & spicy pepper.
Drink: While you wait for your table at Lucali, have a drink at The Zombie Hut, a tiki bar that feels like you've been washed ashore in Gilligan's Island or Fantasy Island. The Polynesian masks, bamboo walls, great music, good-looking crowd, and large outdoor space make this a fun choice for groups. Order the famous Frozen Zombie, a Spicy Cucarita, a simple Mai Tai or The Scorpion Bowl (4 drinks in one) for your group to share!
Sweets: Right next door, is Brooklyn's famous Ample Hills Creamery with delicious flavors including Salted Crack Caramel and Peppermint Pattie. If you are more adventurous, like me, you won't want to miss some other places in the 'hood.
My parting words, don't send a dead biscuit to the kitchen (you'll know what this means soon!)
Consider Royal Palms, Lucali Pizza, and the Zombie Hut Found!